More human than human
Sometimes keeping my life simple is a real struggle.
___________________________________________________
Among the lessons learned on this past weekend: I can throw a bottle with a great degree of accuracy. I refuse to explain further on the grounds that my explanation may incriminate me.
___________________________________________________
This
site
is the homepage of a guy who retouches photos for magazines. The site is a novelty, go there an entertain yourself. Click the thumbnails, and then pass your mouse pointer over the photos to see the before and after. His subjects include some of the most beautiful people around, or at least they are when he's through with them. Here's a before and after of Alicia Keys: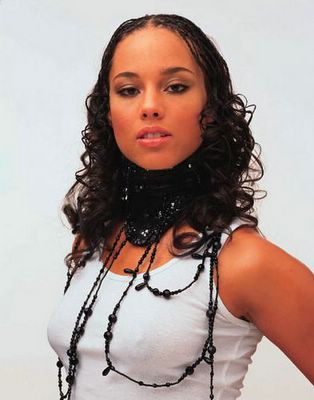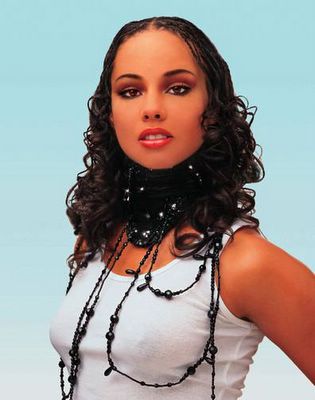 What I find interesting is that in several cases the retouching involves removing things like the folds of skin that happen with the bending of limbs or wearing of tight clothes. As well, in some of the photos you can see that bone structure has been altered: eye sockets, jaws, rib cages. The result is an ideal human form that isn't actually human.
I read an article once that discussed the prevalence of artificial flavouring in food. The article stated that enough strawberries aren't produced worldwide to meet the demand for strawberry flavoured goods, so demand rises for synthetic flavours that can be produced in unlimited amounts. What happens, though, is that the people concocting the flavouring punch up certain aspects of it to make it taste even more "strawberry," to the point that consumers will reject natural flavouring because it doesn't taste enough like strawberry.
Something similar happens with magazine images of the body like the ones at the above site. Photo manipulation produces rock hard bodies and exotic faces that defy anatomical reality. The public then rejects anything in others and themselves that does not match up to the physical forms that exist only on the printed page. Even the celebrities and models that are emulated don't have the features their photos suggest they do.
But all this has been discussed ad nauseam elsewhere. For a much more clever discussion of body image, read this entry over at
Paul's
.
___________________________________________________
Here's something a little less sinister; this photo artist takes old photos and new ones of the same person and cuts them together to make something he calls an "age-map." The results are striking.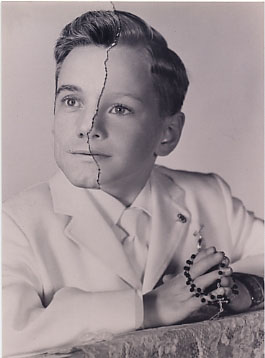 See more
here
.
___________________________________________________
From 1826, the
first photograph
ever taken. It's not particularly striking.
___________________________________________________
I just realized that a bunch of the links in my last post didn't work, so I've gone back and fixed them, in case you're interested.